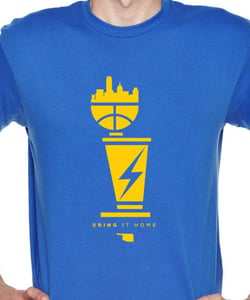 $

18.00
UPDATE 3: All shirt have been mailed out if they were ordered before June 18. We have sold out of XL, if you want one, use the contact form and we'll look at making another run.
We chase titles in Oklahoma, anything less is uncivilized. Wear this limited shirt while cheering on your hometown team to the title.
We feel a social responsibility to give back, so part of the proceeds will be donated to the Mary-Abbott House. The Mary-Abbott is a center that helps children who have suffered abuse. Visit their site http://abbott-house.org/
We are currently accepting preorders. Shirts will be sent out the week of June 11th.